Published: September 28, 2022 |
Thank you for supporting Impact on Education
We are humbled by the outpouring of support we received on Friday at our annual gala, Together We Build.
From the family style dining experience to the lively conversations to raising 56 paddles for our 56 schools, the evening was centered around community. Together we raised over $300,000 to help students build resilience, confidence and their path to success.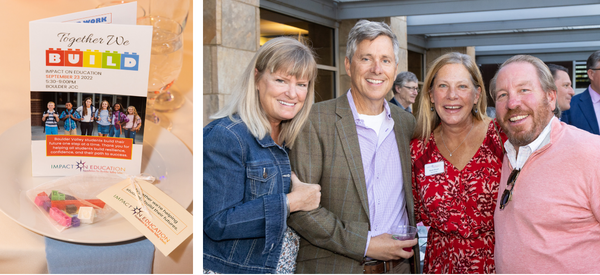 We had so much fun on Friday and shared all of the wonderful photos on Facebook >>
For those that were unable to join us, we invite you to watch a new video about how we are supporting students and educators in the Boulder Valley School District affected by the Marshall Fire.
We're so grateful to have a strong community behind us making sure we can put our mission into action. Thank you for being part of our work!
BEFORE YOU GO …
Impact on Education is a nonprofit organization, and we depend on our community to help us put our mission into action. We need your help to to provide opportunity and resources to 30,000 students and 4,000 educators of the Boulder Valley School District.