The growth, success and challenges of Crayons to Calculators
This year Crayons to Calculators BVSD will equip over 5,000 Boulder Valley public school students living in or near poverty with backpacks full of essential school supplies. Established in 2005, Crayons to Calculators began as a collaborative partnership of Boulder County nonprofits working to ensure every student had access to the tools they needed for a strong start to the academic year. 
Now in its eighteenth year, the program has served over 130,000 students in Boulder Valley School District and St. Vrain Valley School District.
When families face difficult financial decisions or tradeoffs, such as buying groceries or school supplies, it can impact a student's success in the classroom and in life. Ensuring every student has access to school supplies helps create equitable classrooms across all grade-levels.
The beginning of Crayons to Calculators
Crayons to Calculators started in 2005 as the first collaborative school supply drive in Boulder County, serving 2,432 students. Loose school supplies were collected from businesses and individuals across the county and volunteers helped sort and organize the supplies for each school.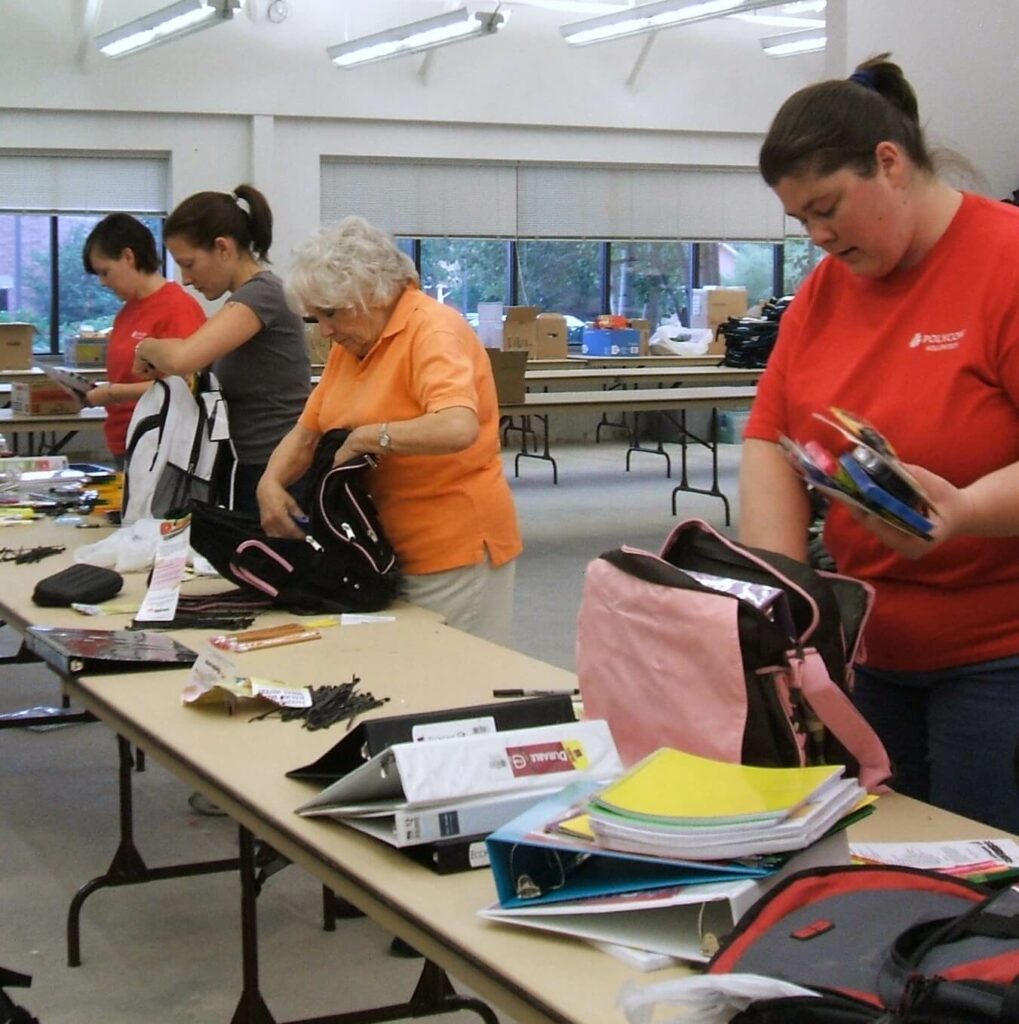 The founding organizations were:
Impact on Education (then known as the Foundation for Boulder Valley schools), led by Francie Anhut and serving as the program fiduciary
Extras for Education, led by Catherine Bedell
I Have a Dream, led by Wendy Gordon
Businesses and individuals came together to serve over 50 Boulder Valley public schools and direct service organizations in Boulder, Broomfield and Gilpin counties, including I Have a Dream, Sister Carmen and the Family Learning Center.
Crayons to Calculators was created to ease the financial burden of struggling families in our community. We never imagined it would grow into such a strong and collaborative program, and are grateful to everyone who has supported BVSD students by supporting Crayons to Calculators.

Laurie Hanson, founding partner of Crayons to Calculators
In 2006 three new partners joined the program – Sister Carmen Community Center, Family Learning Center, and Foothills United Way – and collections were expanded to provide backpacks to each student with their school supplies. The following year the Corporate Challenge was started with 22 companies generating support for BVSD students among their employees.
The initial success of Crayons to Calculators was in large part due to generous organizations and community groups, which includes:
In-kind support from Western Disposal Services, Extras for Education, Costco, Corporate Express, Flatirons Community Church, Ebags and The Daily Camera.
Collections sites at Boulder Valley Credit Union, 1st National Bank of Louisville, Elevations Credit Union, Boulder Valley Credit Union (now Premier Members Credit Union), Vectra Bank and Heritage Bank.
Volunteer support from the Boulder Rotary and Foothills United Way.
Lead sponsorship from Corporate Express, Boulder Rotary Foundation, Western Disposal and the Knight Foundation.
Expanding the reach of the program
In 2008, with the generous support of our title sponsor Western Disposal Services, Crayons to Calculators expanded its reach and range to include students in both the Boulder Valley School District and the St. Vrain Valley School District.
Their annual "Trash Bash" event raised over $100,000 to support the expansion of the program and a new partnership with the St. Vrain Valley Schools Education Foundation. Thanks to Western Disposal Services, over 4,800 students across the two school districts were provided backpacks filled with school supplies for the 2008-09 school year.
Crayons to Calculators continued to grow over the next decade, improving the quality of services, maximizing financial resources, and streamlining administrative and fundraising processes. This included expanding corporate and community partnerships to address the unmet and growing needs of our districts.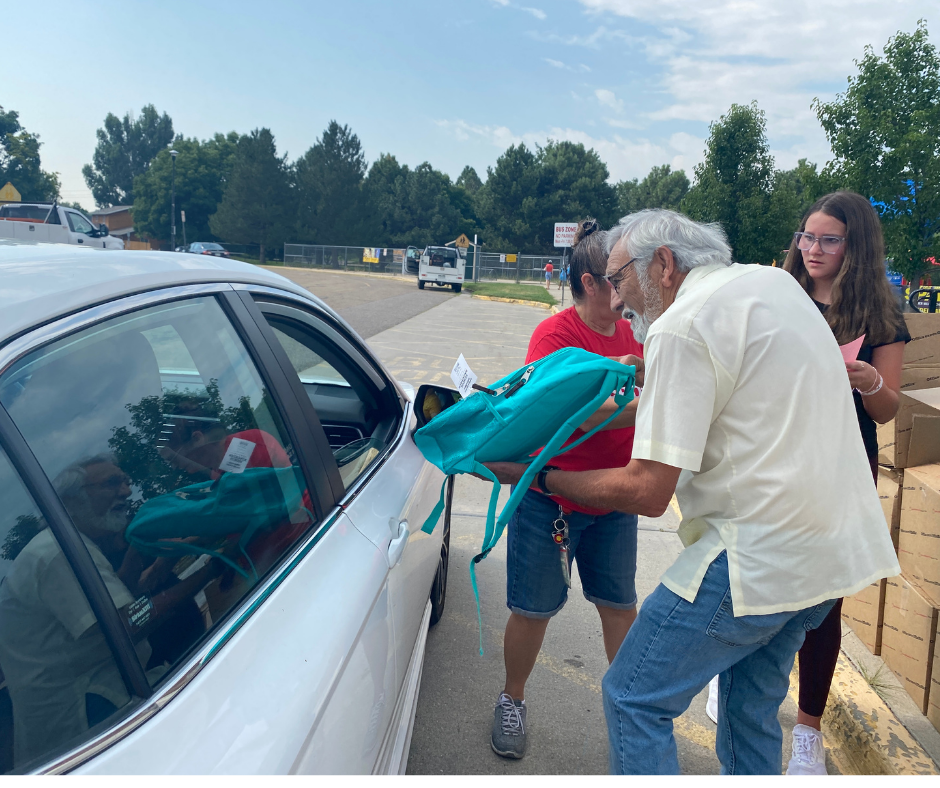 The COVID-19 pandemic changes distribution
After fifteen years of serving the community, the Crayons to Calculators program model shifted in 2020 in response to health precautions in place from the COVID-19 pandemic. Rather than collect, organize and distribute materials through community volunteers, wholesale supply kits and backpacks were picked up by families across both districts.
While we missed involving volunteers and community members in the collection and organization of supplies, the efficiency and cost of the wholesale model allowed us to stretch our resources further and best serve our students. In 2021 and 2022, Crayons to Calculators provided nearly 20,000 students with backpacks, school supplies and headphones.
Better serving our districts
When the program first started, collaborating with other non-profits and crossing district lines allowed us to more efficiently meet the needs of students. As the needs of school districts and communities evolved we realized we could best serve Boulder Valley and St. Vrain students and families by focusing on the districts individually.
The core of Crayons to Calculators remains – increasing equity in our classrooms by providing students with tools they need to succeed.
For the upcoming 2023-24 school year, both districts will still run a Crayons to Calculators school supply distribution, but they will be run independently: Crayons to Calculators BVSD and Crayons to Calculators St. Vrain Valley.
Through the leadership of Impact on Education and dedicated individuals and organizations in our community, Crayons to Calculators has impacted over 133,000 students since its inception in 2005.
The community challenge
We launched our first Community Challenge in 2021 as a way to continue engaging individuals, community groups and local businesses in the program in a fun and engaging way.
We're excited to launch a new and improved Community Challenge in support of Crayons to Calculators BVSD next month. Stay tuned for details!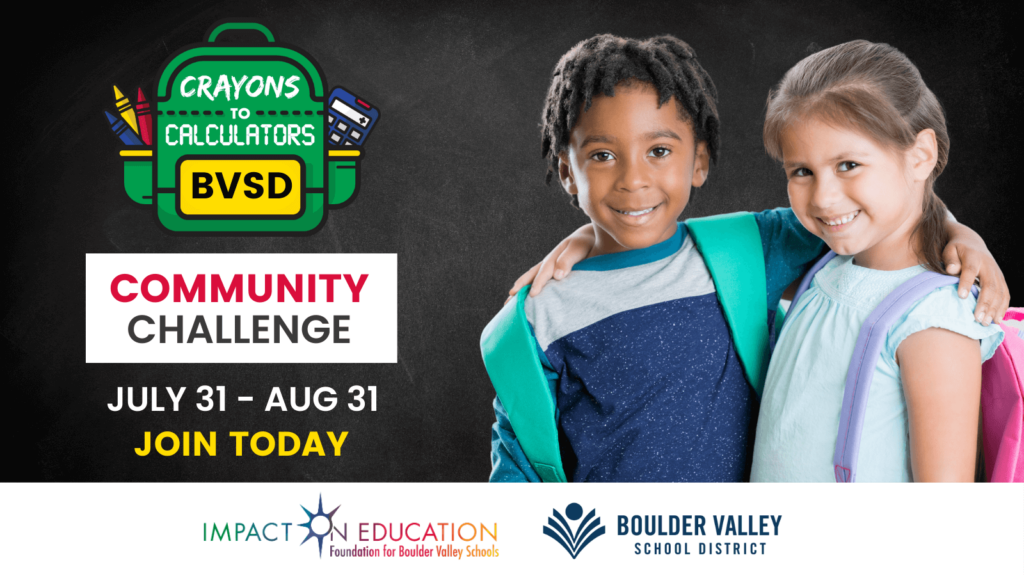 BEFORE YOU GO …
Impact on Education is a nonprofit organization, and we depend on our community to help us put our mission into action. We need your help to to provide opportunity and resources to 29,000 students and 4,000 educators in the Boulder Valley School District.