Learn about the candidates running for the BVSD Board of Education during a forum hosted by the BVSD District Parent Council, Impact on Education, and the League of Women Voters Boulder County.
The Candidate Forum is a great opportunity to learn about the candidates who are running in each of the four open seats in District A, C, D, and G.
Date: Wednesday, October 18, 2023
Time: 6:00 – 7:30pm
Location: BVSD Education Center (6500 Arapahoe Ave, Boulder)
The forum will also be broadcast on BV22 (Comcast Channel 22 and online at bvsd.org/bv22).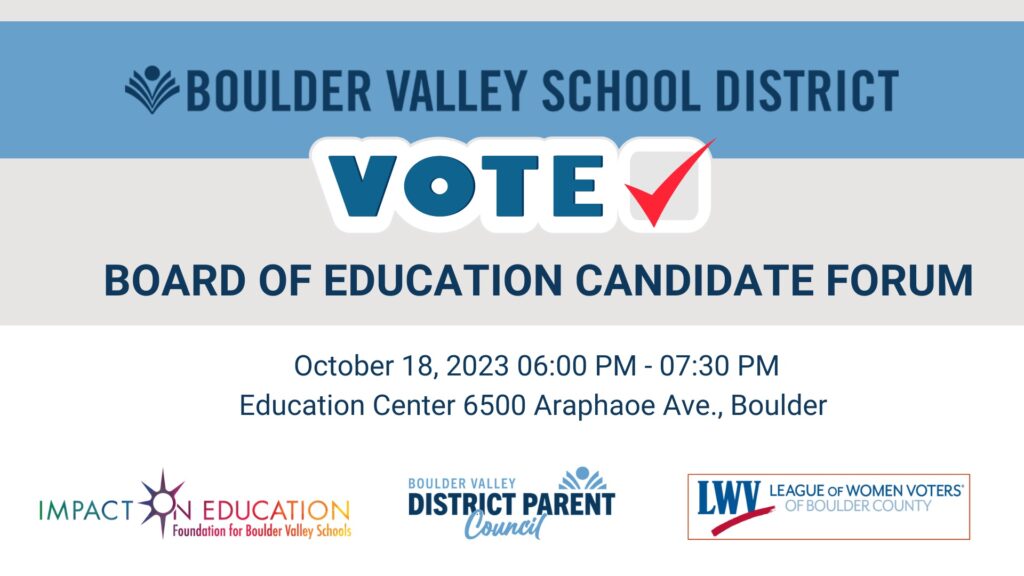 EVENT HOSTS
League of Women Voters' of Boulder County
The League of Women Voters is a nonpartisan political organization, which encourages informed and active participation in government; and influences public policy through education and advocacy.
Impact on Education
Impact on Education is the foundation supporting nearly 30,000 students and 4,000 educators of the Boulder Valley School District. Since 1983, we've provided supplemental funding and resources to students and educators in order to expand what's possible in education.
Boulder Valley District Parent Council
The Boulder Valley District Parent Council (DPC) is made up of one representative from every school in the district. We meet once a month during the school year with the Superintendent of Schools to discuss and examine timely and relevant topics that affect the students and schools of BVSD.