Impact Opportunity Fund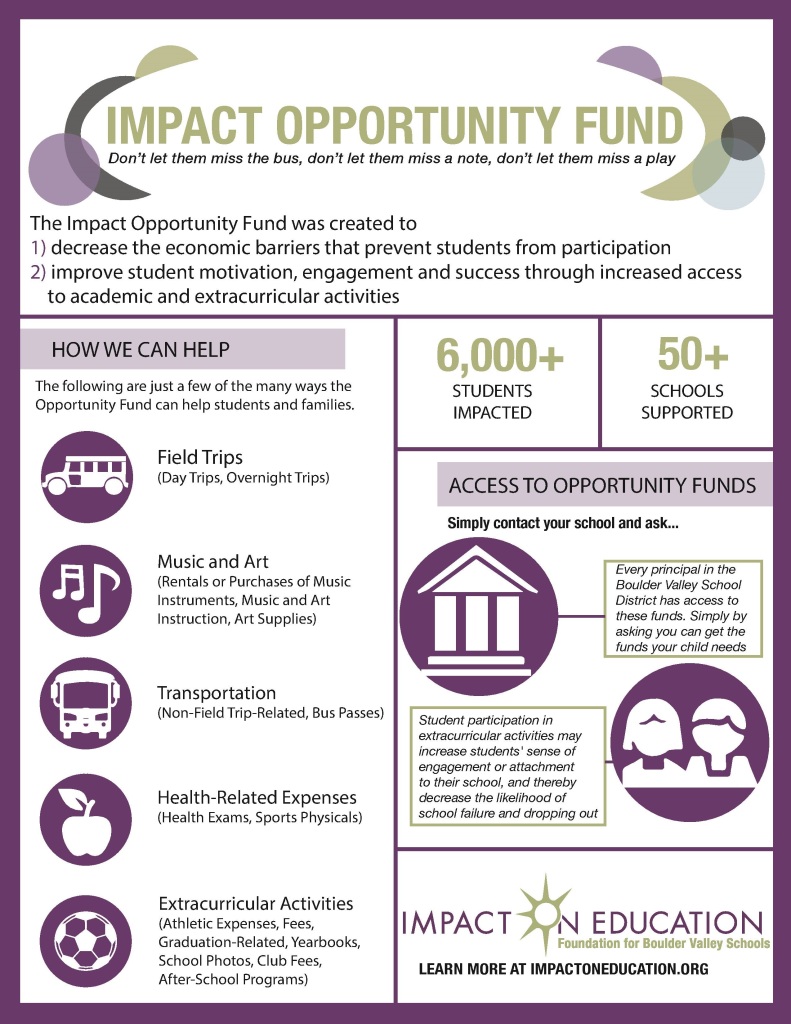 Without financial assistance, many students would not access academic opportunities and participate in extracurricular activities that enable and enrich their educational experiences.
Let's make sure each and every student has the opportunity to attend field trips, represent their school through athletics, enrich their education through music, and all the other opportunities that will make them successful in the 21st century!
Here are some examples of ways in which Opportunity Fund support made a difference for our local schools and students:
"We had four students that were three to four grade levels below their grade. Because of economic hardships with their families, they could not afford after school tutoring. With our Impact on Education money we were able to hire an after school tutor for these students. I am proud to say that these students are now at grade level and thriving! Thank you."
"We used $1200.00 of the Impact Opportunity Fund going towards our Cal-Wood program. We had several students that would tell staff that they did not want to attend this out door experience and once we questioned them on their reasons for not wanting to go it was because they knew that their families could not come up with the money to cover the trip. Once we explained to them that they had nothing to worry that there were ways for them to participate without it being a burden on their families they were able to start enjoying the planning of Cal-Wood and most definitely they were able to enjoy the experience of a life time for a lot of them. We were able to help them thanks to your help."
"We have one student whose mother is battling cancer as well as recently divorced and is just not able to organize nor pay for school field trips, extra-curricular opportunities, or any other activity that requires fees or permission slips. For this student, we were able to use the Opportunity Fund to help make his school year more enriching, interesting and more like that of other students whose family is not experiencing such challenges. As a result, this student has told us multiple times how happy and excited he has been to be able to participate in activities 'like regular kids'."
"An 8th grade student received a pair of new basketball shoes for the basketball season, after shopping for and getting the shoes, the student remarked that it was the first pair of new shoes he had ever had. "
"One of our students lost their house and belongings as a result of a fire. We were able to provide cab fare and medication as well as some donated clothing because of the generosity of the impact fund."
"We had a third grade student who was really struggling with his class work. It became apparent that he was actually having trouble seeing. Our principal made an appointment with a local eye doctor. After his exam this student also received glasses. To see the joy of this student as well as his teacher was very heartwarming. He started to enjoy reading and even math more."
"Our school has a student whose father passed very suddenly during the Winter Break while on vacation with the family. Through the Impact Opportunity Fund, we were able to give immediate assistance and relief to the mother and children. Our student received a waiver on all course fees, field trips, bus passes, and any other financial assistance necessary. That student, devastated as you can imagine back in January, is now thriving and going off to summer camp."
"Shoes were purchased for two students so that they could go on an overnight field trip with the class and be able to participate in outdoor activities in inclement weather."
"We were able to provide science enrichment for a single-parent mother's three children in grades K-3 so that they were able to have enrichment while she worked cleaning houses. This family lives in extreme poverty and the mother was so grateful to IOE that she came in and cried tears of gratitude in the office. This family was also helped in the fall with the purchase of books at the Book Fair for each of her children."
"Our story involves a fifth grade boy who lives in a single dad household with two other brothers. Dad was working very hard to provide for the boys, but we noticed that this young man was wearing shoes that were at least a size too small and very worn out. With winter quickly approaching, we purchased a new pair of sneakers for this student who was so excited that he cried and hugged our principal when he received them. He was truly touched by the generosity and this kind gesture toward him.
"We had two students unable to participate in PE because they couldn't afford tennis shoes. They were so excited when the office purchased them new tennis shoes for PE. Every time they'd see someone from the office they'd say "thank you for my shoes".
"We have a student in fifth grade who suffered from severe burns (all over her body) as a toddler. She came to this country a few years ago and has been unable to afford all the medical care she needs. In addition she is isolated due to her appearance and language barriers. This summer, for the first time, she will be able to attend the Children's Hospital of Colorado Burn Camp, thanks to funds made available from our Opportunity Fund grant. At this camp she will meet other children who live with the same pain and isolation, receive medical assistance and begin to make friendships with children like her."
"….Our school was able to launch an academic club that gave students who didn't have that home to go to after school with internet service, or a desk and environment that is conducive to learning a place right here at school. We were able to provide snacks, a quiet place with positive academic support and mentoring to these students…."
"This year, one student and family that was new to our school didn't return a field trip form – the family said the form never cam home and the child said he lost the form. The teacher found out that the family was too embarrassed to acknowledge that they didn't' have the money to pay for the trip. The Opportunity Fund from Impact on Education was there to pay for this child's field trip cost."
"One area in which we have seen the impact on Education dollars make a long-term difference is in the area of sports participation. We know that many children who live in poverty don't'; have the same chances that other children do to participate in organized sports programs in and out of school. Through the funding that Impact on Education has provided, our students year after year are able to get sports physicals, required sports equipment, and thus have the opportunity to play on sports teams… and because these kids were able to participate in middle school, they are able to try out and make sports teams in high school. They understand how the athletics system works, they understand how to get a physical, how to sign up for a sport, and they have learned the importance of attending practice and how to function as a team."
"This year we had two young men, both with documented rival gang affiliations. Both boys received court orders not to wear their gang colors while at school. Unfortunately, both young men live well below the poverty level and did not have the funds to purchase school appropriate clothing. … an administrator and a counselor took the young men shopping… under normal circumstances the young men would never have associated with one another. The adults spoke to them about the paths they were on, particularly focusing on what kept them from getting to know each other as individuals, no gang associates. While shopping, they all worked on breaking down the barrier that had previously separated them. They got to know each other as people, and even ended up helping each other pick out their new clothes, offering constructive "what not to wear" comments. It was heartwarming to see the walls of misunderstanding and stereotyping fall away as these two young men worked on their "looks." It was a successful day and definitely helped our school establish, by baby steps, a more accepting environment"