STREAM (retired program)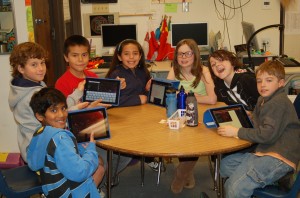 Impact on Education and the Boulder Valley School District (BVSD) collaboratively created a K-8 science initiative titled STREAM: Science, Technology, Reading and Writing, Engineering, Art and Math. The goal of STREAM is to increase student achievement in science, reading and writing through the use of science literacy integration and student-centered technology. STREAM builds upon Impact's four year Take My Teacher Home (TMTH) pilot to bring struggling kindergarten readers to at-grade level reading by first grade. TMTH successfully worked with 280 students to increase reading competency through the use of this technology.
STREAM is a three year, 2 part initiative that began with 1,000 struggling science learners in 2011 summer school. School year 1 included working with 3 pilot schools: 3rd and 4th grade teams at Foothill and Ryan Elementary, and the 7th and 8th grade team at Aspen Creek K-8. Within the 3 pilot schools, STREAM worked with 3 principals, 25 teachers, and 400 students! Concurrently, STREAM supported the revision of the existing hands-on, inquiry based science curriculum (FOSS) to align with state science and literacy standards as well as embed science notebooking and other best instructional practices. STREAM provided hands-on science notebook training with the revised science curriculum to grade level teachers from each school within the district.
Read more about the successes of our STREAM initiative by clicking here.
Principles of STREAM
Hands-on Science and Literacy Integration:  A research based model for science instruction, combining hands-on inquiry lessons, thoughtfully sequenced, and supported with an instructional scaffolding approach to writing, vocabulary, discussion, and data organization.
Enrichment NOT Remediation:  Students are natural scientists! Challenging and engaging environments provide learning opportunities for student investigation through scientific inquiry, building reading, writing and math skills within a scientific context.
Programmatic Elements of STREAM
1. Pilot the use of hand-held digital devices in K-8 classrooms increasing science knowledge and enhancing literacy skills. The use of the hand held digital device will:
Increase student engagement in learning.
Encourage hands-on creative approach to student expression.
Reinforce science and literacy concepts.
Enhancement of student ability to explore more thoroughly science content using pre-approved applications aligning with BVSD curriculum.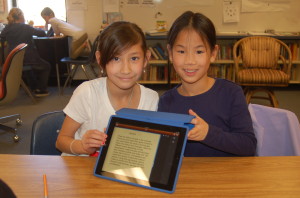 2. Implement a district-wide training of "science note-booking", a research-based method supporting students' critical thinking and self expression in science. Supportive structures within the note-booking model, allows students with emerging writing skills to show content comprehension as well as improve written communication.
Professional Development
Professional development is the cornerstone for the success of STREAM. The training includes:
Recorded exemplar videos of science notebook strategies by BVSD teachers.
How to use the hand-held devices, integrating curriculum and technology, Google Apps suite, Edmodo
Science-Literacy-Technology integration, including exemplar lesson plans and finished products
Team lesson planning support
Individual teacher/classroom coaching
Key accomplishments from year 1:
Completed five revised Teacher Guides incorporating science notebooking and new Colorado Academic Standards into existing FOSS units.
Trained

153

teachers on revised Teacher Guides and science notebooking strategies. With an average class size in 2011-2012 of 22.5 students per class, this equates to an indirect effect on

3442

students.
Deployed 100 iPads with apps to support instruction  into three schools:

Aspen Creek K-8, Broomfield (Grade 8: 162 students)
Foothill Elementary, Boulder (Grades 3-4: 196 students)
Ryan Elementary, Lafayette (Grades 3-4: 157 students)
Total students who had access to iPads in= 515 students
Trained and coached

28 teachers

on the use of iPads to support instruction
Developed a website with comprehensive training support and resources
Presented at the 2012 TIE (Technology in Education) Conference
Established an internal, cross-disciplinary leadership team and an external advisory board
Third grade TCAP Reading scores at Ryan Elementary increased from a weighted index of 76 to 86 between 2011 and 2012. The increase in gain for native English speakers was 77 to 88, a gain is statistically significant.  This was the only significant gain in third grade TCAP Reading scores in BVSD from 2011 to 2012.
Pre-post test gains for the FOSS Matter and Energy unit between STREAM and non-STREAM schools indicates a trend toward a larger gain for STREAM schools, with STREAM schools averaging an 8.05 point gain and non-STREAM schools averaging a 7.45 point gain, but this difference is not statistically significant.
Pre-post test gains for the FOSS Water unit between STREAM and non-STREAM schools indicates a statistically significant difference in student gains. STREAM schools averaged 14.358 and non-STREAM schools averaged 11.305, giving a p value of 0.0002.