Published: April 1, 2021 |
When the COVID-19 pandemic required schools to close, we jumped into action, raising more than $600,000 to meet the critical needs of students, families, and schools in the Boulder Valley School District.
One year later, we're sharing an update on how our Critical Needs Fund and Student Academic Support Fund addressed vital needs for our students including food security, the digital divide, and supplemental learning. We are proud of the work we've accomplished and hope you are too.
How funds were invested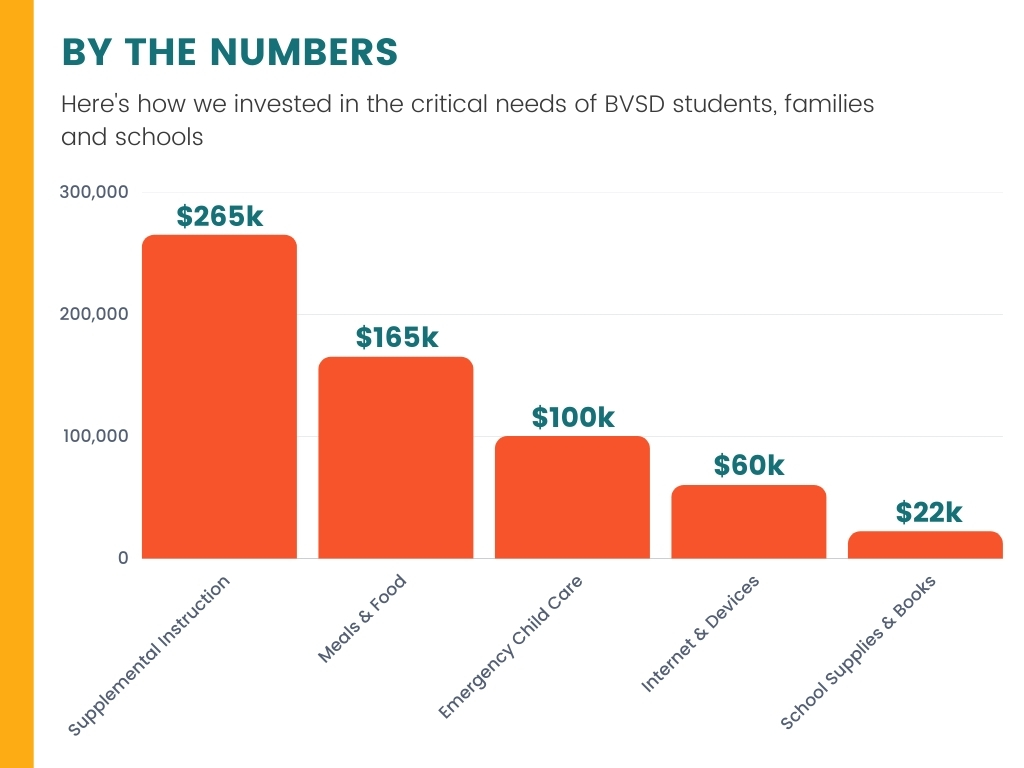 $265,000 invested in supplemental instruction
Targeted tutoring for 3rd-8th grade students
ACT/SAT preparatory courses for high school juniors
Funding for all BVSD high school students needing to retake failed or incomplete coursework
Additional instruction, technology and curriculum to keep students engaged and on grade level
$165,000 to ensure families have food on the table
Supported emergency food distribution of nearly 2 million meals through BVSD Food Services
Delivered grocery gift cards to 450 high needs families
$100,000 to provide a safe and stable place for students to learn
Eliminated child care debt for 53 BVSD families in financial need
Providing supervised care before and after 2021 summer learning to ensure all students who qualify can participate
$60,000 to enable access to remote learning
Provided 1,500 families with internet access through BVSD IT
Supported the distribution of 6,000 chromebooks
Deployed hotspots to families in need of more reliable service
$12,000 to equip elementary students with supplies
Acquired and distributed 3,000 backpacks filled with school supplies for elementary school students when remote learning began
$10,000 to keep kids reading at home
Purchased thousands of books to distribute to families so students had reading material at home during the lockdowns in spring 2020
Collected and distributed thousands more books in the fall that reached students before winter break
On the horizon
We will continue meeting the critical needs of BVSD students this spring and summer and are committed to ensuring students facing opportunity gaps receive the support they need to stay engaged in learning.
A recent study by McKinsey & Company estimates that "students on average could lose five to nine months of learning by the end of June 2021. Students of color could be six to 12 months behind, compared with four to eight months for white students." This translates to an average loss of "three months of learning in mathematics and one-and-a-half months of learning in reading."
We are planning ways to provide supplemental instruction next school year and are committed to making sure that the disruptions to student learning in 2020-21 do not lead to long-term or permanent deficits for the students in our community, especially those who are traditionally underserved.