Published: March 8, 2023 |
Staff Spotlight: Katie DiMercurio
Katie started working with Impact on Education in May 2022 to support our fundraising team and she's been instrumental in helping us engage more supporters and expand the reach of our work. We're excited for her to shift into a new role on the team this month – Program Director – where she'll manage our existing programs and investments, identify new opportunities, and monitor their impact.
Why Katie supports public education
Katie believes it is important to be involved in a meaningful way in her community. "Public education has the potential to be a great equalizer in our world," she says. "It gives students from all different backgrounds chances and opportunities. Impact on Education is vital to ensuring that kids continue to have those opportunities to succeed and grow into amazing humans."
Katie spent six years as an elementary music school teacher in Arizona and Colorado and got to play and teach kids every day. She says it was an amazing start to her career, but she ended up moving toward working in nonprofits because she wanted to be able to do more for her whole community. She moved back to Colorado in 2013, receiving a Masters in Public Administration and Nonprofit Management and beginning to work with human services nonprofits.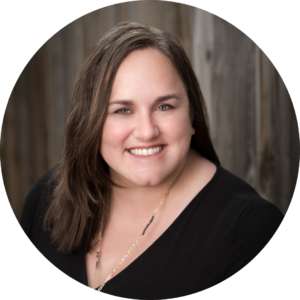 How her fundraising experience will help build strong programs
Katie is looking forward to providing support for educators and students across the school district. Her background mixes teaching and planning experience with fundraising and relationship management – a unique blend of skills that will drive our programming.
Katie's classroom experience combined with her organizational skills and collaborative approach makes her the perfect fit. We're thrilled to have Katie guide our programs and investment decisions. The support we're offering to students and schools right now, from early childhood education to Wellness Centers to career readiness, will benefit from her skills and experiences.

– Allison Billings, Executive Director
Supporting and encouraging youth is where Katie's heart lies. She's passionate about making a difference in her community and specifically in the lives of young people. This career change allows her to go back to doing just that.
More about Katie
She enjoys traveling (her husband is a pilot!), exploring nature, spending time with their two kitties, and working on never-ending house projects.
Ask her about
Teaching and playing music, what book she's currently reading
BEFORE YOU GO …
Impact on Education is a nonprofit organization, and we depend on our community to help us put our mission into action. We need your help to to provide opportunity and resources to 29,000 students and 4,000 educators in the Boulder Valley School District.