Events
Classroom Innovation Grant Showcase
Monday, April 22, 2019- 4:00-5:30pm at the BVSD Education Center
Join us for this event that gives our excellent BVSD teachers the opportunity to showcase their innovative projects funded by this year's Classroom Innovation Grants.  Admission is free!  Please contact Jen Biegen with any questions at jen@ImpactOnEducation.org or 303-524-3865
Impact on Education Gala 2019 – ASPIRE
FRIDAY, May 3rd, 2019 at the Boulder Jewish Community Center (directions here)
Replacing Razzle Dazzle
The GALA is our signature fundraising event. Though we are moving the event up a month and bringing the opportunity to support Boulder Valley Public Education indoors, the inspiring theme, great food, and fun will still be the focus. Join us to win exciting silent auction items and one-of-a-kind live auction packages so that we may help students of BVSD ASPIRE so they all can soar to reach great heights! If you are interested in donating an item for the auction or becoming an event sponsor please contact Chris Grack-Wilson via email or call her at 303-524-3865.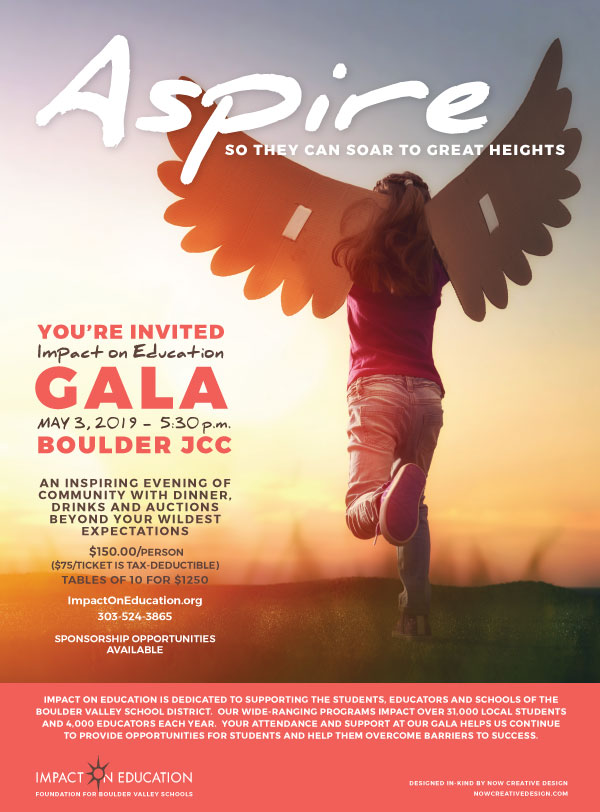 PAST EVENTS:
26th Annual Impact Awards Celebration
Thursday, March 14, 2019 – 6:00 pm to 8:30 pm at the Boulder Jewish Community Center
The Impact Awards celebration recognizes individuals in the Boulder Valley School District (BVSD) who have an extraordinary impact on student learning through innovative teaching skills, exception job dedication, and inspirational leadership. Started in 2018, Impact on Education is proud to recognize one individual from every BVSD school and also awards the prestigious Blake Peterson Lifetime Achievement Award, which acknowledges a member of the BVSD community who has demonstrated long term commitment to the success of BVSD students and to building a brighter future for BVSD schools.
Click here to see to 2019 Impact Awards Recipients